News and Announcements
LATEST UPDATES

Videos
24 Thought Steps to Kaspar Hauser (German)
The videos '24 Thought Steps on Kaspar Hauser' on the website of the Kaspar Hauser Research Group are now complete.
More

Press coverage
Review of the kaspar Hauser Festival 2020
Presscoverage about the Kaspar Hauser Festival 2020 in Ansbach
More

Exhibition Download
80 Years of Camphill Movement 1940 – 2020
Offers from the Karl König Institute for the 80th anniversary of the move that became a Movement - The move to Camphill House
More

Newsletter
Newsletter Kaspar Hauser Research Circle
Newsletter No 4, Summer 2020
More

Article Südkurier
Camphill turns 30
Camphill turns 80 and looks back in an open-air exhibition in Heiligenberg
More
Stay in touch
NEWSLETTER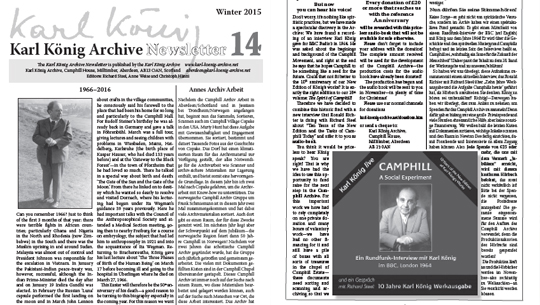 Stay abreast with what's happening
Official Karl König Institute Newsletter
We regularly publish information on news and announcements here to keep our network and friends updated on all the various research, actions and initiatives happening around the world.
We also publish a biannual Newsletter, now running for over 10 years. The newsletter presents interesting articles, news, events and activities, both relating directly to the Institute, as well as contributions from our various collaborations.