About Karl König and the Camphill Movement
BIOGRAPHY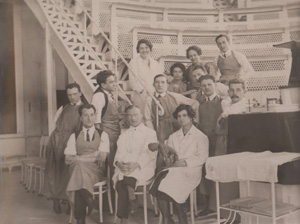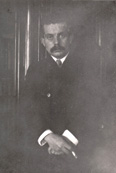 About Karl König
Dr Karl König was born on the 25th of September 1902 in Vienna, Austria-Hungary and died on the 27th of March 1966 in Überlingen at the Lake of Constance in Germany. Early in his life he developed a strong relationship to the values of Christianity and to questions regarding the issues of social life.
Dr König studied zoology, biology and medicine in Vienna. During this time he struggled with questions regarding the evolution of life. It was the encounter with Goethes work on natural science, Goethe's approach and methods that gave him the direction for finding answers.
He published the results of his first research about the effects of homeopathic substances during the time as an assistant at the Vienna Institute for Embryology.
Soon he got to know followers of Rudolf Steiner, and during the first encounter with Ita Wegman she asked him to work as an assistant at the "Klinisch-therapeutische Institut" in Arlesheim in Switzerland. The co-founder of the institute was Rudolf Steiner.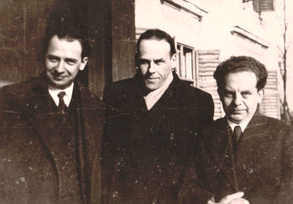 It was also in Arlesheim where he started to give numerous lectures and courses, rich in content and covering a great variety of topics. As we can read in his 'Autobiographic Fragment' the roots of his deep inner connection and relationship to children with special needs are to be found here in Arlesheim.
A lecturing journey to Silesia lead to the marriage with Tilla (Maasberg) and his deep connection with the social and religious impulses of the "Herrnhut" brotherhood where she originated. Because of his Jewish descent he had to give up his work as general practitioner and in the institute of Pilgramshain, which he had just founded with Albrecht Strohschein and which was one of the first curative educational centres based on Anthroposophy.
Also the "School for Social Work", founded bei Emil Bock and himself in Eisenach in 1932, could not be continued. In 1936 he fled via Prague back to Vienna where he restarted his surgery. Already in 1938 he was as successful with his work as in Silesia. During this period he lead an anthroposophical study group with young people, many of them Jewish. Together with this group he soon had to flee again.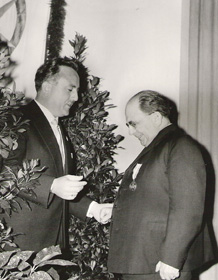 Camphill
Their routes and methods of flight were individual until they could eventually meet again in the North of Scotland. The old "Camphill" estate, a former hiding place of the last knights of the "Order of the Temple" became the place of origin for a community based on curative education, which then developed during the post-war years as the "Camphill Movement" and soon was called for in many countries of the world.
For Karl König, the foundation of such a community was an attempt to realise suggestions Rudolf Steiner had made for social life based on insight into spiritual reality. For him it was an endeavour to take up anew the true and deeper tasks that had been hindered by the destruction of Central Europe.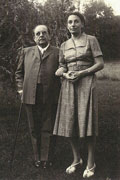 The Camphill Movement
In 1966, Karl König died in Überlingen near to the communities he had founded at the Lake of Constance. Tireless work and effort to help children, adolescents and adults with special needs in practical, therapeutic and educational life, through publications, talks and seminars, had become more and more the central content of his life. He experienced with satisfaction that he had successfully built a "bridge back to Central Europe".
König's research covered medicine, educational theory, curative education, psychology, biology, agriculture, spiritual science, social and religious subjects – see 12 Subject Areas. A list of the collected works can be found in the Books Catalogue.
Today, the Camphill Movement includes more than 100 diverse therapeutic communities in over 20 countries. The Camphill Movement international address and telephone directory can be found in the below PDF download.
The written works of Karl König
BIBLIOGRAPHY
A bibliographic index, in chronological order. The list is updated regularly.
The following list of Karl König's written works is based on the catalogue compiled for the Karl König Archive by Christof-Andreas Lindenberg in 1969 and updated in 1992 for the biography "Karl König - A 20th Century Biography" by Hans Müller-Wiedemann.
Apart from some exceptions, only first printings in magazines and as books are included. Titles show the language of the publication.
Translations: Publications in languages other than those used by Karl König himself (English and German) are only listed if published during his lifetime. Later editions are to be found in the lists of the various languages.
Bibliography