Research, Publications and Collaborations
Art and Literature
Karl König began something like a social 'Gesamtkunstwerk', the art of living together.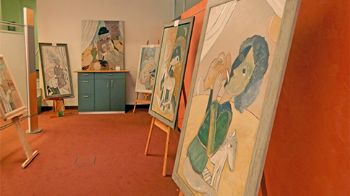 Overview
By creating the community in Camphill Karl Koenig not only inaugurated a path of practise in social art but also began something like a social "Gesamtkunstwerk". All arts were to be included into everyday life in the community. Their various therapeutic possibilities were also to be included. Life was meant to penetrated in all details in an artistic way.
The Karl König Institute is working with the arts in the following areas:
Design/Fine Arts
Prof. Dr. Reinhold Fäth is a member of the Institute. He has published a number of books and articles about art and art history and has been instrumental in creating very special exhibitions (see below "AENIGMA" for instance). His new project is dedicated to female artists: "LILAC – Hilma af Klint et aliae – Women Artists of a Meditative Modernism" (see "Collaborations")
Painting and Sculpture
In cooperation with the English painter and sculptor Greg Tricker (See "Partners") many exhibitions, courses and lectures have been offered around Europe. Particularly his cycle of 35 paintings and 3 sculptures on the theme of Kaspar Hauser has been central and he has given these art works on permanent loan to the Institute. Exhibitions (see picture) and events can be arranged with us. A new book is in preparation about Greg's life and work.
Music
We are working on contemporary questions involved with music and its role in society (see essay "Music and Pandemic"). Together with music therapist Katarina Seeherr we are preparing a volume on the "Healing Powers of Music" (see article in Newsletter 23).
Poetry
Richard Steel, CEO of the Institute, has just published his 5th volume of poetry (of which 4 are in German, one in English). In connection with poetry, questions of inspiration and imagination are central and research is being done on "Poetry as Therapeutic Substance".
Brigitta Waldow-Schily and Dr. Anne Weise are Art Historians. Anne Weise is responsible for archiving and research at the Institute; Brigitta Waldow-Schily is Board Member. Both have published important books in connection with the Institute. (See "About us" and "Publications")
Art and Literature
Publications, Partners and Collaborations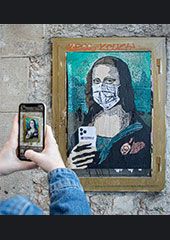 Music and Pandemic
Does the Corona Pandemic Call Us to A New Look at Questions of Our Times?
Article by Richard Steel, New Years Day 2021
Extract from the text:
"... And we were not allowed to sing for each other, or to sing together! Through the pandemic speech and singing became activities of potential harm; the breath of my fellow human beings became something to be afraid of, something with hidden dangers. Language and music have begun to crumble as bridges between human beings, between groups and nations - and between the human being and the spiritual world. What will that mean long term? Will everything get back to "normal"? Was this a wakening call to notice what had already been developing – or perhaps also devolving and degenerating? Perhaps we had left the "norm" already?
The sense of hearing is without a doubt an area of great concern in our times; real speech and real music need to be seen as lifelines for the real human being, which is itself ultimately at stake"
Download
---
Wayfarer
Poems and autobiographical miniatures (only German)
Presenting a biography - especially an autobiography - is a high level of art in which one has to look at what has become and what has not become with different eyes so that the invisible becomes visible. These eyes therefore need selflessness, love and gratitude, but also a dose of humor. In making the invisible visible, a voice may also become audible. May be it is conscience?
More about the book
---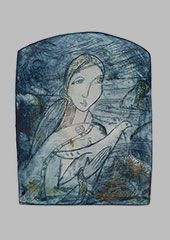 In Vorbereitung! Das Licht des Kindes – Ein Lebensfaden durch das Werk von Greg Tricker
Anlässlich des 70. Geburtstags von Greg Tricker im Jahr 2021 ist eine weitere Monografie über den Künstler durch Brigitta Waldow-Schily in Vorbereitung. Der Arbeitstitel lautet: "Das Licht des Kindes". Das Buch knüpft damit an die Thematik an, die mit Kaspar Hauser, dem "Kind von Europa", verbunden ist und rückt das Motiv der heute schwer umkämpften "Kindheitskräfte", die Karl König z.B. in seinen Vorträgen über die "Ewige Kindheit" schon 1964 beschrieb, in den Mittelpunkt. Im Gesamtwerk von Greg Tricker ist die Frage nach diesen Kräften als dem "Heiligen im Menschen" zentral, ebenso wie das Motiv des "Lichtes in der Finsternis" – denn bedroht waren diese Kräfte zu allen Zeiten. Doch ist diese Bedrohung heute auf eine neue Ebene gerückt: durch den wachsenden Materialismus, der sich äußert in dem durch die Pandemie begünstigten "Schub" der Digitalisierung aller Lebensbereiche und in der Faszination über die Potentiale "künstlicher Intelligenz", durch die die menschliche, herzdurchdrungene Intelligenz in Gefahr gerät, verloren zu gehen. Das Kind, der Narr, die Heilige – Gestalten, die Greg Trickers Figurenkosmos bevölkern, halten für uns dieses "Heilige" wach, und egal, in welchem Jahrhundert sie lebten: Greg Tricker möchte uns damit "paintings for our time", Bilder für unsere Zeit geben.
Geplantes Erscheinungsdatum: Sommer/Herbst 2021, Info3-Verlag
---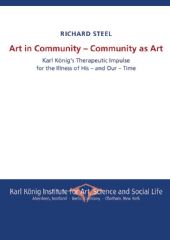 Art in Community – Community as Art
Richard Steel
Karl König's Therapeutic Impulse for the Illness of His - and Our Time
"Art in Community – Community as Art" has 36 pages with many pictures of examples and sells for
£6,50 / $9 /€7,50
Contact: office@karlkoeniginstitute.org
---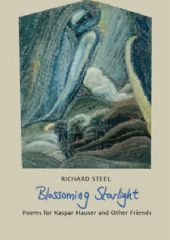 Blossoming Starlight
49 hand-written poems by Richard Steel
Texts about Kaspar Hauser by various experts and Aphorisms by Richard Steel.
With a cover picture:"
Kaspar and the Angel" by Greg Tricker and a Foreword by Sean Vernon.
---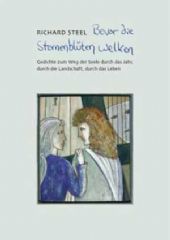 Bevor die Sternenblüten Welken (only in German)
This second book of poetry by Richard Steel brings together 35 poems "The way of the soul through the year, through the landscape, through life", as it says in the subtitle. The manuscripts of the poems reproduced in facsimile are, appropriately selected, juxtaposed with quotes and reading fruits by the author as "Texts by Friends in the Spirit".
---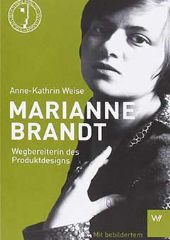 Marianne Brandt: pioneer of product design (Only in German)
Author: Anne-Kathrin Weise
As one of the most important designers of her time, Marianne Brandt significantly influenced the development of design in the 20th century. The utility device designed by Marianne Brandt embodies the program of the Bauhaus under Gropius: functionally designed, economically well thought-out and often also realized objects planned for series production.
---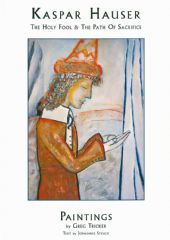 Kaspar Hauser: The Holy Fool & The Path of Sacrifice
This inspired collection of over forty original paintings by Greg Tricker portrays the extraordinary life of Kaspar Hauser.
---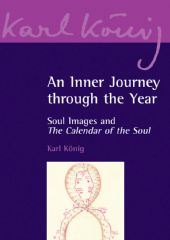 An Inner Journey Through the Year
An Inner Journey Through the Year – Imagiative Drawings for the Soul Calendar
Karl König meditated intensely on the 52 weekly verses of Rudolf Steiner's Calendar of the Soul. During his time in internment on the Isle of Man, he made these 52 naïve, artistic sketches to accompany each verse. This is a wonderful way to experience an important spiritual tool.
---
Plays for the Festivals
Brings together fourteen of König's plays for the first time
Written for communities to perform together
A definitive reference work including commentary and photographs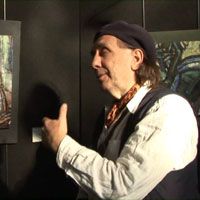 Cooperation with the Artist Greg Tricker
Greg Tricker is an exceptional contemporary artist who uses many different techniques, apart from his paintings and prints, also doing sculpture and glass-work. He has worked on a number of themes over time, one of these being "Kaspar Hauser" . This caused us to make contact and prepare a publication about his biograpy and work. For this Brigitta Waldow-Schily, a board member of the Karl König Institute and art historian, accompanied him at work for some time and interviewed the artist. The book about his artistic path to Kaspar Hauser is only in German as yet but there is a beautuful art book with the Kaspar Hauser paintings and some background text in English:
Greg Tricker: Kaspar Hauser - The Holy Fool and the Path of Sacrifice. Available from the Karl König Institute: £25 + postage

Greg has given the complete Kaspar Hauser series of 37 pictures and 3 sculptures as a permanent loan to the Karl König Institute. Since Kaspar hauser's 200th birthday in 2012 we have organised 27 exhibitions, often including talks and guided tours but also embedded in conferences to the theme. We still offer to exhibit until around early Spring of 2021 when the Kaspar Hauser Center in Ansbach will be ready to open. The pictures will be included there as permanent exhibition. Please see our Newsletter about this project in Ansbach (Newsletter 20).
Associated Documents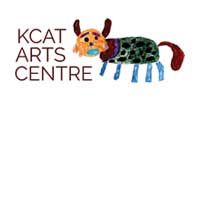 KCAT Arts Centre in Ireland
KCAT, founded in 1999,  is a multi-disciplinary Arts Centre in Callan Co. Kilkenny, Ireland; dedicated to the fostering and nurturing of creative ambition and professional development in the arts.
We believe that everyone, regardless of background, age, gender or ability should have access to a creative world – as students, participants, artists or audiences.
KCAT Arts Centre, Mill Lane Callan,
Co.Kilkenny, R95 XN35, Ireland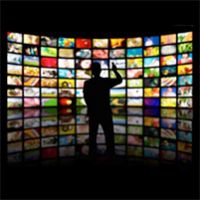 "The most important world problem" – The Evolutionary Role of Art for a Humane Future
What does it mean that we live in a time of such strong visual images, particularly from the digital realm, that penetrate our soul continuously and relatively beyond our control?
Reinhold Fäth describes the dangers and the potential healing that images can have for human development - for the future of humanity!
The arts will have a significant role to play for the future.
Reinhold Fäth
O Human Being!
Let not the pictures remain unconscious in you.
To your goal, to your work
Bring only the source of images
That springs from the angel to you.
Walter Besteher
Associated Documents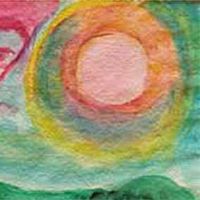 LILAC – Hilma af Klint et aliae – Women Artists of a Meditative Modernism
Et aliae? The abbreviated Latin words "et al." mean "and others" and are often found in scholarly writing, that represent more authors to avoid a long list of names. The unabbreviated "al." in Latin could be written in three different ways: masculine (et alii), feminine (et aliae) or neuter (et alia).
The list of women artists introduced here along with Hilma af Klint is indeed long, quite unexpectedly so and in response to the short question:
Are there other outstanding artistic personalities like Hilma af Klint to be discovered within the theosophical-
anthroposophical "occulture" of Modernism?
Associated Documents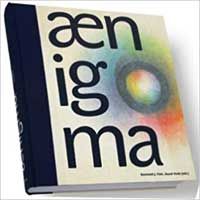 Art project "AENIGMA"
The project Aenigma - Hundred Years of Anthroposophical Art, led to a very successful exhibition in 2004/2005, which was shown in the Museum of Modern Art, Olomouc and the Kunstmuseum Moritzburg, Halle, and a beautiful and important publication.

Since then, research has continued and will change in 2020 especially focus on women in anthroposophical art. A very contemporary topic! (see attached PDF)
Good and Evil Powers in Art and Culture
(Jó és gonosz hatalmak a művészetben és a kultúrában)

Lecture in German/Hungarian by Prof. Dr. phil. Reinhold J. Fäth, University of the Arts in the social field in Otterberg, Germany
Saturday, January 25, 2020
10.00 hours
Venue:
Budapest
II. Riadó u. 2 / b.
Associated Documents