News and Events
LATEST UPDATES
ACESTA Conference - Courage, Love & Meaning
Michaelic Tasks for the Healing of our Time: Talk by Richard Steel, Friday 15th May 2020
More

Kaspar Hauser Research Circle at the Karl König Institute
Invitation to the 2020 annual meeting!
More
Karl König: The Refugee Doctor Who Pioneered Art as a Language for Social Therapeutic Care
15 March 2020: An Art in Community UK event, in partnership with the Karl Koenig Institute and The Mount Camphill
More

Kaspar Hauser Festival 26.07.2020 - 02.08.2020 in Ansbach
The Kaspar Hauser Festival takes place in even-numbered years in Ansbach
More

From Artistic to Social Imagination
Lecture in the Filder Clinic on June 6th, 2020 (German)
More
A Day of Celebration of our Life and Work At 50 Years - 17th of May 2020
In collaboration with Karl König Institute Greg Tricker Art in Community and Insiders Outsiders Festival
More
Stay in touch
NEWSLETTER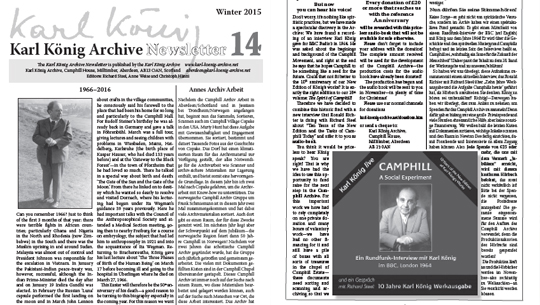 Stay abreast with what's happening
Official Karl König Institute Newsletter
We regularly publish information on news and events here to keep our network and friends updated on all the various research, actions and initiatives happening around the world.
We also publish a biannual Newsletter, now running for over 10 years. The newsletter presents interesting articles, news, events and activities, both relating directly to the Institute, as well as contributions from our various collaborations.