News and Events
LATEST UPDATES

Fridays For Future
The office of the Karl König Institute will be closed on Friday September 20th in solidarity with Fridays For Future.
More

Kaspar Hauser Festival In Columbia County, ​New York
After hosting a Kaspar Hauser Festival in autumn 2017, the four Camphill Communities in upstate New York will host a Kaspar Hauser Festival from October 31 to November 3, 2019. 
More

Sulfur and iron - The inner balance as a task of the present day
Michaelmas Lecture by Richard Steel, Rudolf Steiner Haus, Berlin, 29. September 2019
More
Stay in touch
NEWSLETTER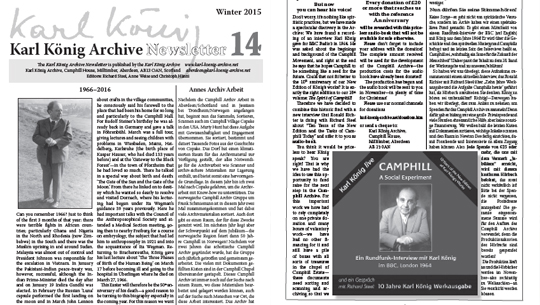 Stay abreast with what's happening
Official Karl König Institute Newsletter
We regularly publish information on news and events here to keep our network and friends updated on all the various research, actions and initiatives happening around the world.
We also publish a biannual Newsletter, now running for over 10 years. The newsletter presents interesting articles, news, events and activities, both relating directly to the Institute, as well as contributions from our various collaborations.