Other Publications Archive
The Human Soul
A detailed study of the human psyche, of pain, emotions, moods, the senses, consciousness and dreams.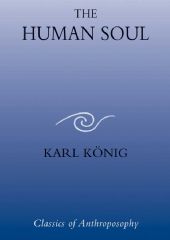 Book Overview
The nature of the human 'soul' is difficult to describe or quantify, but it is nonetheless something which we know exists in the depths of our being.
In this classic work, Karl König considers the different characteristics of the soul. He looks at pain, anxiety, fear, shame and anger, and he distinguishes four stages of consciousness: normal day-consciousness, dreaming, sleeping and deep sleep.
Specifications
Format: paperback
Size: 216 x 138 mm
Extent: 160 pages
Publisher: Floris Books
Publication Date: 24 August 2006
Series: Karl König Archive
Subject: Psychology and Pedagogy
Illustrations: ----
ISBN: 9780863155789
Price: £12.99
Additional Material
Downloads