Karl König Book Archive
Nutrition from Earth and Cosmos
Eighteen lectures and essays which consider the significance of nutrition within a spiritual context.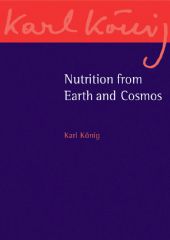 Book Overview
Food quality is an important issue for our modern world. There is an increasing awareness that empty calories and mass-produced food don't offer the quality nutrition that people need, and that smaller amounts of better-quality food could help combat the epidemic of obesity sweeping the western world.

Karl König recognised the significance of human nutrition nearly one hundred years ago. In the 1920s he started lecturing on the subject as part of a programme of social help in deprived city areas, and in 1936 gave a course for physicians and educators.
Specifications
Format: paperback
Size: 216 x 138
Extent: 400 pages
Publisher: Richard Steel, Floris Books
Publication Date: 16 April 2015
Series: Karl König Archive, Workedition
Subject: Agricukture and Science
Illustrations: b/w illustrations
ISBN: 9781782501633
Price: £25.00
Additional Material
Downloads