Karl König Book Archive
I want the meaning of life
This book is in preparation for the English series, including poems, verses and stories by König. Also the Christmas Story will be published in this volume.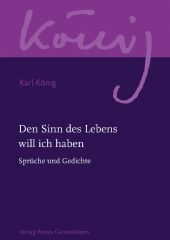 Book Overview
The book is only available in German Language.
The German Title:
Karl König
Den Sinn des Lebens will ich haben
Sprüche und Gedichte.
Karl König
I want the meaning of life.
Proverbs and poems.
Specifications
Format: Hardcover
Size: ----
Extend: 263 pages
Publisher: Alfons Limbrunner And Richard Steel.
Publicattion Date:
Series: Karl König Archive
Subject: Art and Literature
Illustrations: ----
ISBN: 978-3-7725-2420-2
Price: € 28,00
Additional Material
Downloads