Karl König Book Archive
Die zwölf Sinne des Menschen, Band 2
Band 2: Sinnesentwicklung und Leiberfahrung (Only in German language available)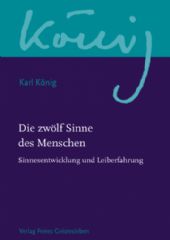 Book Overview
"That is the first chapter of Anthroposophy: the real nature and essence of our senses." Rudolf Steiner
With this in mind, Karl König researched and taught all his life about the senses. His representations encompass the broad perspective of being human, but are at the same time practical and therefore fruitful for all areas of different areas of life and work.
These "classics" are now being published in 2 volumes with previously unpublished material from the Karl König Archive as well as additional articles by Prof. Dr. Peter F. Matthiessen and others.
Volume 1 deals with the unity of the senses
Volume 2 looks at all twelve senses in detail.
Specifications
Format: Linen with dust jacket
Size: ---
Extent: Pages 285
Publisher: Richard Steel
Publication Date Autumn 2021
Series: Karl König Work Edition
Subject: Anthroposophy
Illustrations: ---
ISBN: 978-3-7725-2418-9
Price: € 28,00
Additional Material
Downloads