Other Publications Archive
Der behauste Mensch
Von vier Wänden und einem Dach über dem Kopf (only in German Language available)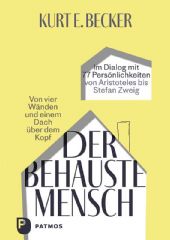 Book Overview
A characteristic of humans is that they live and settle down. The living space is part of the intimate sphere and may only be entered upon invitation.
How he "lives" reveals a lot about a person.Behind houses, villages and cities are ideas and concepts, views of the world and people. Living has prerequisites and side effects that, in their change, always also reflect people's self-image.
In 77 "conversations" with personalities from cultural history, Kurt E. Becker reflects on how people are housed. Their requests to speak are original texts from over 2000 years - a reading pleasure with an aha effect.
Specifications
Format: Hardcover with dust jacket and ribbon bookmark
Size: 14 x 22cm
Extent: 280 pages
Publisher: Kurt Becker
Publication Date: 1st edition 2021 
Series: Other publications
Subject: Cultural history
Illustrations: ---
ISBN/EAN: 1st edition 2021 
Price: 22,00 €
Additional Material
Downloads