Other Publications Archive
Das Licht des Kindes
Leitmotive im Werk von Greg Tricker (only in German)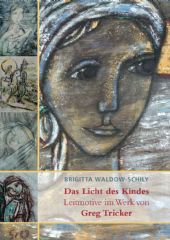 Book Overview
In his search for the "sacred" in man, Greg Tricker has developed a profoundly powerful visual language all his own, reminiscent of Rouault, Chagall or Cecil Collins. Although self-taught, over the course of time he has developed an impressive variety of artistic means of expression in painting, sculpture and graphic art.
Greg's recurring motif is "childhood forces"; he deals with historical figures who have retained a pure, childlike, creative quality or are suffused with the fire of youthful forces: Anne Frank, Kaspar Hauser, Francis of Assisi, Joan of Arc, Bride of Iona, Greta Thunberg and others.

This book goes in search of the "light of the child." As it presents itself as a quality in general and as it shows itself in various works of Greg Tricker. In this way, the great range of Tricker's art is shown, as well as his contribution as a contemporary artist to the appreciation of childhood and the preservation of the "child in man."

The book is complemented by the contribution of Christoph Meinecke, who as a pediatrician and psychotherapist looks at the success of childhood.
Specifications
Author: Brigitta Waldow-Schily
Format: Broschur
Size: 28 x 20,5 cm
Extent: 188 pages
Publisher: INFO3 Verlag
Publication Date:  ---
Series: ---
Subject: ---
Illustrations: Coloured, numerous illustrations
ISBN: 978-3-95779-154-2
Price: € 26,00
Additional Material
Downloads