Other Publications Archive
Climate Psychology
Atmospheric awareness as a way out of the climate crisis (Only in German Language)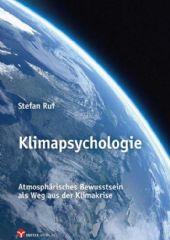 Book Overview
We must change to overcome the climate crisis.
The threat of climate change is open before us, the crucial facts are known, the Paris climate agreement has been signed. Why do we still not manage to draw the necessary conclusions for our behavior?
"We have to find a spherical sensation, feeling and thinking within ourselves that is able to vividly depict the complex atmospheric events outside of us and to enter into a relationship with them."
Stefan Ruf
Specifications
Format: flap brochure 
Size: ---
Extent: 280 pages
Publisher: INFO3 Publisher
Publication Date: 2. Edition 2021
Series: ---
Subject: climate psychology 
Illustrations:
ISBN: ISBN 978-3-95779-109-2
Price: € 19,90
Additional Material
Downloads