Andere Publikationen
Camphill and the Future
Spirituality and Disability in an Evolving Communal Movement (nur Englisch)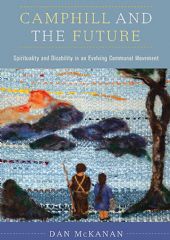 Bücher Übersicht
A free open access ebook is available upon publication. Learn more at www.luminosoa.org.
The Camphill Movement, one of the world's largest and most enduring networks of "intentional communities," deserves greater recognition and study. Founded in Scotland in 1939, Camphill communities still thrive today, encompassing thousands of people living in more than one hundred schools, villages, and urban neighborhoods on four continents. Camphillers of all abilities share daily work, family life, and festive celebrations with one another and their neighbors. Unlike so-called utopian movements that reject mainstream society altogether, Camphill expressly seeks to be "a seed of social renewal" by evolving along with society to promote the full inclusion and empowerment of persons with disabilities, who comprise nearly half of their residents. In this multifaceted exploration of Camphill, Dan McKanan traces the complexities of the movement's history, envisions its possible future, and invites ongoing dialogue between the fields of disability studies and communal studies.
Dan McKanan is the Emerson Senior Lecturer at Harvard Divinity School, where he has taught since 2008. His research focuses on religion and social transformation, with special emphasis on intentional communities, sustainable agriculture, and leftist activism. His most recent book is Eco-Alchemy: Anthroposophy and the History and Future of Environmentalism.
Beschreibung
Format: Paperback
Size: 6 x 9
Extent: 246 Pages
Publisher: University of California Press
Publication Date: 13. October 2020
Series: ---
Subject: Spirituality and Disabilty
Illustrations: ---
ISBN: 9780520344082
Price: $ 34.95, £ 29.00
Zusätzliches Material
Downloads